So how's everyone's Chinese New Year yah?

Mine was ok, like any other CNYs I had. lol The schedule never changes anyway.

On CNY's eve, of course, no doubt, it's...


Dinner! =D
If you're wonderin' what the raw vege is for,
You wrap meat with it and eat it, so that the meat wouldn't taste so oily and it tastes fresh with the vege.
After dinner there's basically nothing to do except gambling. Usually they'd play poker but this year my grandma was interested with Mahjong instead.
So with nothing to do, we can only watch TV.
And you know what's the best thing to watch on TV?
8TV DEDICATION SMSES.
At first I wasn't interested in reading it, but then usually when you make a dedication you will watch out for it right?
Yes I made a dedication also. I was bored. lol
But the bad thing was my sms didn't get through as it replied me no such codename. WTF.
So my sis made a dedication instead.
So we watched out for it.
And LOL you won't believe how enjoying it'll be reading dedications.
Some of them are normal Happy Chinese Niu Year greetings, and some of them was like I miss you I love you 4ever bla bla bla messages. One of them even proposes! Woo hoo!
But one thing, will they be watching? SMS THEM INSTEAD OF 8TV LA.
Wait no! CALL THEM. Not sincere enough if sms. lol
The proposing is awesome, but the I love you You love me thing sucks.
Oh well, it's not me anyway.
BUT it's hella fun to watch.
Then it's

CNY DAY 1

!
Ugh dark picture. What I wearing was dark also.
I wasn't wearing full black hor.
Nah, orange and white stripes.
I didn't want to button the black and white outer at first, but when I wear the sleeveless orange and white, my bra was revealing. It wasn't like that when I tested it at F.O.S!! D=
Maybe I was wearing a different bra then. =/
Anyway, BUTTONED.
Breakfast - non meat
After you finish your rice, you HAVE to have seconds of the rice. It's like a tradition, or rather a make-believe that it's a good thing to add. Anyway it's GOOD. lol
Then after breakfast, we rest.
Btw before I continue, have you guys heard of DO NOT WANT?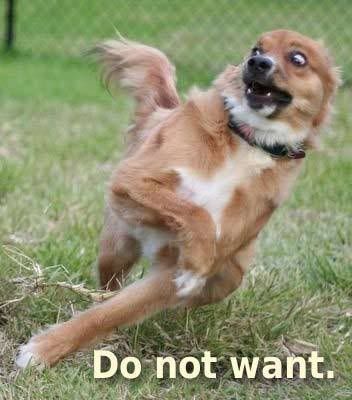 According to somewhere, it's a internet meme that is originally from Mandarin dub of "Star Wars III" which subtitled Darth Vader's "NOOOOO" as "Do Not Want".
Yu-Gi-Oh the Abridged Series used this as a reference too. xD
And so because we have nothing else better to do(

or should I said because I have nothing else better to do coz I requested it

).
LOL.
Then it's time for these.
Seriously saying, I hate tang shui. It's sweet but not chocolate or candy sweet, but a different kind of sweet which I dislike. x_x Yuck!
Usually, we'll visit 3 or 4 houses.
Last year, 3 houses.
This year, 2 houses.
My grand uncle passes away before CNY, as I've mentioned in the previous post.
So only 2 houses then. =(
First house.
My lovely bag. x3
Me.
I hope this is mine. =(
Second house.
Not much pictures of the house but there's this cute boy that is SUPER CUTE!
When he first appear he hugged my cousin by surprise, and my cousin's a guy! LOL. Maybe because he's huge like a bear. xD
So cute! Wearing chinese sam fu even! x3
And his sister's wearing a dress, like a princess! But no pictures though haha coz I'm interested with the little boy more. =x
But she's really cute too and she changed into her cheongsam later. xD
Bye. =(
Then it's time to go back. Sigh. Short visit to each houses.
=D
Nah! Much brighter. =D
And that's all for CNY eve and Day 1!
Next post...
UNO?
Love,
KEI
P/S: REIKO COME BACK FAST SO WE CAN GO VISIT!! D=