It's been like a few days since I blogged, I really wanted to blog but my new house have no internet line and I've been busy a few days ago. I stayed overnight at my old house on Thursday~Friday for assignment and I slept for less than an hour. It was really rushing 'cause the tutor said there's some problem so I was actually exercising the whole day walking here and there. Lucky we made it. XD

After the less sleeping and all the running, I can't believe that we still have the energy to play tennis after school. o.o

The opening ball was started by Calvius and he hit the ball into the metal barrier and it got stuck. lol I took a picture of it but I think I'll just leave it for your imagination how that situation was like.



It was really fun, it's been awhile since I played tennis. Plus it was after the long stress, assignments, so it had been really enjoying and relaxing after moving and sweating. =3

After I went home, I didn't go back to the old house to online 'cause I had enough of computers that day. I just wen straight home, bath, dinner watched Friends, and fell asleep on the couch.


Next it was Bon Odori, on Saturday! =D

And guess what I'm wearing?

A YUKATA!!

Thanks to MA Kingdom, I bought it a few months ago and is ready for Bon Odori! =3 (

Check it out, it has really neat stuffs in there - Lolita dresses, punk clothings etc.

)

I was really pissed off at first because we took 1 hour+ to wear the obi(

the belt thingy

), and we were so late for the gate opening. However we got really excited later.

As promised, pink nail polish!!


We actually got lost 'cause my dad, who was fetching me thought that it was held at the Shah Alam Stadium. Luckily my dad asked a friend of his and I called Kame and my dad finally figure out where it was.

The first reaction when I saw someone wearing yukata was "

OMG YAY I'M NOT THE ONLY ONE WEARING YUKATA!!

" I was so scared that no one wore yukata even though I'm already sure that there will be people wearing it. I was so damn excited when I saw more than one people wearing it and I feel so relief.

Not much pictures 'cause I haven't get them yet.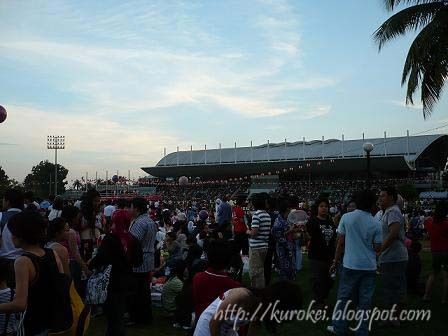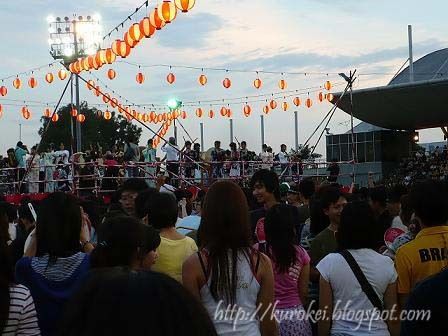 There was 3 sessions of dance with 4 different dances each session. I missed the first session and was actually really .... speechless. Well I don't wanna say why 'cause I choose to forget it even though I can't. >_> Then I dance the 2nd and 3rd session. It was fun. =3

And guess what we saw?



Ugh, no respect at all for the dead. You're not suppose to cosplay here. How do you like it if I cosplayed at your funeral? =_= AND Ichimaru Gin is suppose to look good lor.
Oh ya! While we danced, I saw Morning Musume fans doing the dance lor! So damn funny but I respect for being a die hard fan.

*salutes*

Ahh~ I wish I could meet X Freaks there.


The next day, Sunday IS MY CONVOCATION!!