Today I'm gonna introduce you people something really interesting! =D


BUT,

it's for girls only, sorry!! 'Cause guys might not like these things.
If you guys insist on reading it, go ahead. Don't say I didn't warn ya. lol


First it's
poupee girl
!!

Reiko introduced me to this like a year ago and I'm still loving it!


So what exactly is poupee girl?

Poupee means " doll" in French. In Poupeegirl, Poupee is a character that appears instead of you on the screen.





~quote from Poupee Help page

What's so fun about this Poupee thingy?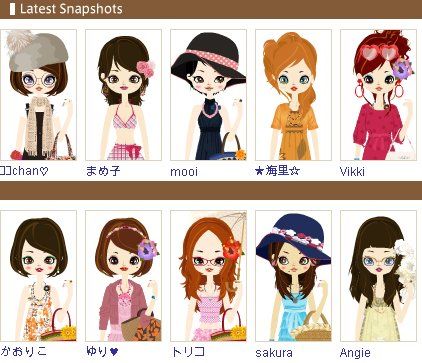 It's kinda like a dress up game. You dress them up in cute clothings and takes snapshot of them, and there's sooo many kinds of cute outfits in the poupee world, you just have to get it.

How do you get those various kinds of clothes? Easy. By posting YOUR clothes. YOUR real accessories. In exchange you'll get poupee items and ribbons, used for buying stuffs and sometimes shells. With 5 shells you can exchange them for an poupee item that other users had discarded at the Shell Spring. There's a limit for poting your items though.

This might sound boring right? But for girls, dress up games are fun. X3 lol


My poupee can be seen at the side bar, if you're too lazy to go find it well here it is.


It's summer now so my poupee is wearing swimsuits too. X3 Very summer feeling right?
If only their items are real. They all look so cute it's a waste they're not selling them but just a made up clothings.

So girls! Join poupee girl today! =D
Oh yeah I almost forgot. It's a japanese website BUT no worries! 'Cause the site is so popular overseas it was translated to english! =3 They couldn't translate ALL though...but I'm sure you'll manage. *winks*
------------------------------------------
Ever saw items that are decorated with blinking crystals that are so cute and attractive?
You can just buy the crystals and do them yourselves but it's soooooo time consuming and you might not be so creative to make them so in the end you just give up. No blinky cellphones. No blinky laptops. No nothing. It'll all just be a dream.
Don't you just wish that there's someone who could do them for you?
NOW YOU CAN!!
Visit Blinky World!!
With a reasonable price, they can help you to decorate handphone protective covers in blinky crystals according on how you want it to be! They also do laptops, camera, mp3s and so much more!
Here are some completed products!
Not bad right?
What are you waiting now? Visit Blinky World now and get your modified and unique items! X3
Told 'cha this is a girl topic. lol
Until next post~ Bye!
Love,
KEI
P/S: Ahh~ Suddenly, I don't think I know you anymore.